uShip: New Jersey Car Shipping For Your Vehicle
Find Reliable, Affordable Car Shipping Options for New Jersey Auto Transport
Get Car Shipping Quotes
5.0/5

Jason

"My truck was delivered in pristine condition, and I easily released payment to shipper via uShip's website and that was it! So easy."

5.0/5

Jaime

"In every interaction with the team members they have gone above and beyond to ensure I was satisfied with the results."

5.0/5

Liz

"It was relatively easy to find a shipper and payment was pretty seamless."

5.0/5

Jim

"We have being working with uShip since 2013 and have always been satisfied with the results."

5.0/5

Nate

"My shipper was great! On time both for pick up and drop off would highly recommend."

5.0/5

Brian

"I can find that hard to deliver item a dependable driver and research their past feedbacks on the platform."

5.0/5

Rebecca

"Our boat arrived in perfect condition."

5.0/5

Jonathan

"Have used uShip twice to ship a motorcycle purchased out of state. The entire experience has been top notch each time."

5.0/5

Sheleigh

"Super easy and quick! Very pleased! I will certainly use this platform again."

5.0/5

Stephen

"uShip provides a service that is unlike anyone else on the planet and I am thankful for it!"

5.0/5

Alaina

"Wonderful service!!!!! Felt safe and comfortable with how they do payments too! Shipment went better and quicker than expected!!"

5.0/5

Tony

"The delivery went without a hitch and I cannot say enough good things about the shipper!"
How Does Car Transport in New Jersey Work?
Getting your vehicle shipped to or from New Jersey is a breeze with uShip's easy and seamless shipping options. Here's a detailed walk-through of how it works:
1 | Request a quote:

Start your free listing by providing details about your vehicle and shipping requirements.

2 | Compare Quotes:

Receive quotes from our network of feedback-rated carriers, and compare their rates and services.

3 | Choose a Carrier:

Book with the carrier that best fits your needs based on pricing, customer reviews, and delivery timeline.

4 | Schedule Pickup:

Coordinate a pickup time for your vehicle with the selected carrier and provide any necessary documentation.

5 | Track Your Shipment:

Stay updated on the progress of your shipment through our mobile tracking feature.

6 | Delivery:

Once your vehicle reaches its destination, inspect it thoroughly before releasing payment to the carrier.
How Long Does New Jersey Car Shipping Take?
In-State Delivery: For vehicle transportation within New Jersey, the average transit time from pickup to delivery is usually 1 to 2 days. Factors such as distance, carrier availability, and external factors can influence the exact duration.
Cross-Country Delivery: For vehicles traveling to or from New Jersey across state lines, the average transit time from pickup to delivery can fall anywhere between 2 to 7 days. The duration can vary based on the distance, route, and any potential stops or detours along the way.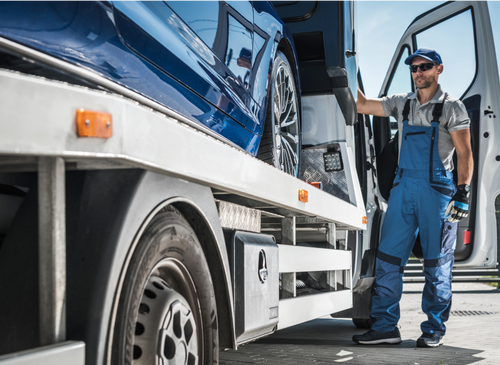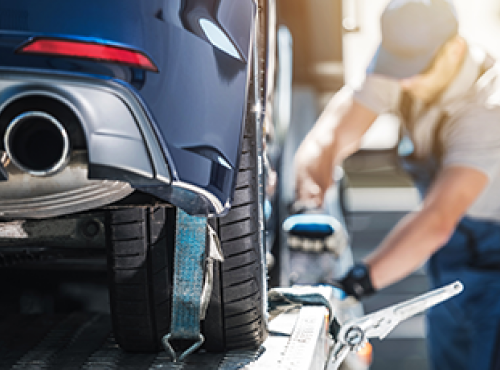 How Much Does New Jersey Auto Transport Cost?
When shipping your vehicle to or from New Jersey, the cost of auto transport in New Jersey depends on various factors. These include the distance your vehicle needs to travel, its size, the chosen transport method, and the current market conditions.
Create a free listing to get a more accurate cost estimate for your New Jersey auto transport. By doing so, you'll be able to receive quotes from multiple car shipping companies and carriers in New Jersey and compare their prices. This way, you can make an informed decision and choose the best option that fits your budget and needs.

How to Choose the Right Shipping Company for Car Shipping in New Jersey
When choosing a shipping company for affordable auto transport in New Jersey, take into account the following essential factors:
Experience and Reputation:

Seek out car shipping companies in New Jersey with a solid track record and positive feedback from satisfied customers. A reputable company is more likely to provide a smooth and reliable service.

Licensing and Insurance:

Ensure that the company or carrier you choose is licensed to operate in New Jersey and has adequate insurance coverage. This will protect you and your vehicle throughout the transport process.

Services Offered:

Check if the shipping company provides the specific services you need. Whether open or enclosed transport, ensure they can accommodate your requirements.

Price and Value:

It's essential to compare quotes from different car shipping companies in New Jersey, but don't solely focus on the cheapest option. Consider the overall value, including factors like customer support, reliability, and the quality of service they offer.

Customer Feedback:

Take the time to read reviews and testimonials from previous customers. Their experiences will give you valuable insights into the level of satisfaction and service quality the company delivers.
Top 10 Most-Asked Questions on Google
How much does car shipping to New Jersey cost?

The cost of car transport in New Jersey can vary greatly depending on distance, vehicle size, and transport method. On average, it can range from $250 to $1,800.
What is the best car shipping company in New Jersey?

You can find some of the best New Jersey car shipping companies on uShip, where it's easy to compare reviews, services, and prices to find the best fit for your specific needs.
How long does New Jersey auto transport take?

The shipping time for a car within New Jersey generally takes around 1 to 2 days. Cross-country shipments to or from New Jersey may take 2 to 7 days, depending on the distance and other factors.
Is car shipping in New Jersey safe?

Yes, car shipping in New Jersey is generally safe. To ensure the safety of your vehicle during auto transport in New Jersey, it's essential to choose a reputable and insured company.
Can I ship a non-running car to New Jersey?

Yes, many car shipping companies in New Jersey can transport non-running vehicles. It's essential to inform the service provider in advance so they can make the necessary arrangements.
How do I prepare my car for car shipping in New Jersey?

Prepare your car for shipping to or from New Jersey by removing all personal belongings, cleaning the interior and exterior, documenting any existing damage, ensuring the fuel tank is less than a quarter full, and securing loose parts.
Can I put personal items in my car when shipping to New Jersey?

It's generally recommended not to pack personal items in your vehicle during car transport in New Jersey. Most car shipping companies in New Jersey restrict transporting personal belongings for insurance and safety reasons.
What documents do I need for car shipping in New Jersey?

The documents required may vary for car transport in New Jersey, but generally, you'll need the vehicle's registration, proof of ownership, and a valid ID. It's best to check with the provider for additional requirements for New Jersey car shipping companies.
Are there any restrictions on shipping a car to New Jersey?

New Jersey may have specific regulations related to vehicle emissions and modifications. Ensuring your vehicle meets the state's emission standards and complying with any necessary regulations is essential.
How do I track my car transport to or from New Jersey?

Most car shipping companies and carriers provide updates on the status of your shipment through their tracking systems or apps. You can also contact your transporter directly to inquire about your car's location during transit.
Top 5 Things to Know When Moving To or From New Jersey
New Jersey Residency Requirements:

Before you move, acquaint yourself with New Jersey's residency requirements, including the process for obtaining a driver's license and registering your vehicle in the state.

Climate and Geography:

New Jersey's climate and geography can vary across the state, from its beautiful beaches to scenic countryside. Take the time to research the specific area you're moving to know what to expect.

COST OF LIVING:

Like many states, New Jersey has its own cost of living considerations. Prepare for potentially higher housing, transportation, and utility expenses as you plan your budget.

Traffic and Commute Times:

If you're moving to a city or densely populated area in New Jersey, be aware that traffic congestion can be a common challenge. When choosing a new home, factor in commute times to ensure a smooth daily routine.

Local Laws and Regulations:

New Jersey may have specific laws and regulations that differ from your previous state. For instance, you should know vehicle emissions standards, parking restrictions, or other local rules that could impact your daily life.
Top 5 Useful Websites for Moving to New Jersey
Discover New Jersey: Embrace the beauty and opportunities of the Garden State! Discover tourist attractions, events, and travel insights for various regions in New Jersey.
New Jersey Department of Education: If you have school-age children, this website provides crucial information about schools, curriculum, and educational resources in New Jersey.