uShip: Find the Best Car Shipping Companies in Ohio
Looking for safe and reliable Ohio auto transport? Look no further!
Get Ohio Car Shipping Quotes
5.0/5

Jason

"My truck was delivered in pristine condition, and I easily released payment to shipper via uShip's website and that was it! So easy."

5.0/5

Jaime

"In every interaction with the team members they have gone above and beyond to ensure I was satisfied with the results."

5.0/5

Liz

"It was relatively easy to find a shipper and payment was pretty seamless."

5.0/5

Jim

"We have being working with uShip since 2013 and have always been satisfied with the results."

5.0/5

Nate

"My shipper was great! On time both for pick up and drop off would highly recommend."

5.0/5

Brian

"I can find that hard to deliver item a dependable driver and research their past feedbacks on the platform."

5.0/5

Rebecca

"Our boat arrived in perfect condition."

5.0/5

Jonathan

"Have used uShip twice to ship a motorcycle purchased out of state. The entire experience has been top notch each time."

5.0/5

Sheleigh

"Super easy and quick! Very pleased! I will certainly use this platform again."

5.0/5

Stephen

"uShip provides a service that is unlike anyone else on the planet and I am thankful for it!"

5.0/5

Alaina

"Wonderful service!!!!! Felt safe and comfortable with how they do payments too! Shipment went better and quicker than expected!!"

5.0/5

Tony

"The delivery went without a hitch and I cannot say enough good things about the shipper!"
How Does Car Transport in Ohio Work?
With uShip, shipping your vehicle to or from Ohio is an easy and stress-free process. Here's a quick look at how car shipping with uShip works:
1 | Request a quote:

Start your free listing by providing details about your vehicle and shipping requirements.

2 | Compare Quotes:

Receive quotes from our network of feedback-rated carriers, and compare their rates and services.

3 | Choose a Carrier:

Book with the carrier that best fits your needs based on pricing, customer reviews, and delivery timeline.

4 | Schedule Pickup:

Coordinate a pickup time for your vehicle with the selected carrier and provide any necessary documentation.

5 | Track Your Shipment:

Stay updated on the progress of your shipment through our mobile tracking feature.

6 | Delivery:

Once your vehicle reaches its destination, inspect it thoroughly before releasing payment to the carrier.
How Long Does Car Shipping to Ohio Take?
In-State Delivery: For car shipping within Ohio state borders, the average transit time from pickup to delivery is usually 1 to 2 days. Factors such as distance, carrier availability, and time of year can influence the exact duration.
Cross-Country Delivery: For vehicles traveling to or from Ohio across state lines, the average transit time from pickup to delivery can fall anywhere between 1 to 7 days.The duration can vary based on the distance, route, and any potential stops or detours along the way.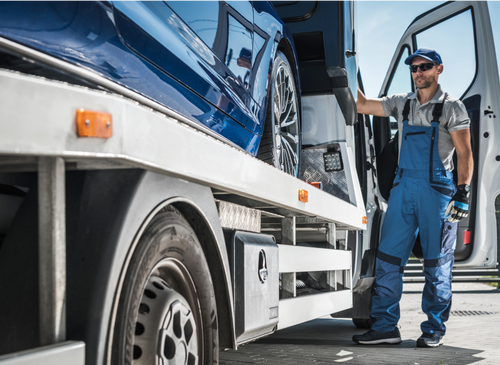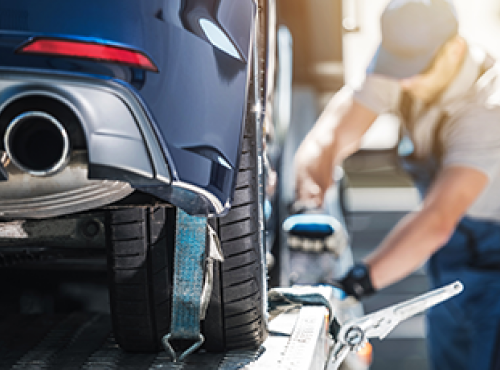 How Much Does Ohio Auto Transport Cost?
The cost of auto transport to Ohio can fluctuate based on several factors, including distance, vehicle size and type, the chosen transport method, and current market conditions. At uShip, we recognize the significance of budget considerations when shipping your vehicle. While we cannot provide exact figures here, we can guide you on obtaining precise cost estimates for auto transport in Ohio.
If you're searching for reputable Ohio car shipping companies, uShip offers access to a nationwide network of feedback-rated carriers. By providing details about your vehicle and shipping requirements, you'll receive estimates from top-rated carriers, all in one place.

How to Choose the Right Shipping Company for Ohio Car Shipping
When selecting a shipping company for your car transport to Ohio, consider the following:
Experience and Reputation:

Choose transporters with a strong reputation and extensive experience in managing car shipments to and from Ohio.

Licensing and Insurance:

When searching for car shipping companies in Ohio, ensure the carrier you select is properly licensed and insured.

Services Offered:

Confirm that the company offers the specific services you require for your Ohio car shipping, such as open or enclosed transit.

Price and Value:

Compare quotes from different shipping companies and evaluate the overall value they provide.

Customer Feedback:

Review customer feedback, reviews, and testimonials to help you make an informed decision.
Top 10 Most-Asked Questions on Google
How much does it cost to ship a car to or from Ohio?

The shipping cost can vary based on distance, vehicle type, and the type of service provided by car shipping companies in Ohio. It's best to request quotes from various auto transporters for the most accurate pricing.
How long does it take to ship a car to Ohio?

Car transport times to Ohio depend on distance, carrier availability, and road conditions. It can range from a few days to a couple of weeks. You can expect an estimated delivery window from your selected car shipping Ohio service.
What is the best car shipping company in Ohio?

The best Ohio car shipping company depends on your specific requirements, but you should consider reputation, customer reviews, services offered, and cost. Reputable companies like uShip are your best and safest choice for auto transport to Ohio.
How can I ship my car to Ohio?

Start by creating a free listing on uShip and receive quotes from our network of carriers. The process typically involves selecting a carrier, prepping your car for shipping, and arranging pickup and delivery times.
Is it safe to ship my car to or from Ohio?

Ohio car shipping services are generally safe, especially when you choose a trusted Ohio auto transport company. These businesses maintain insurance coverage to compensate for any damages incurred during transport.
What are the required documents to ship a car to or from Ohio?

Car shipping companies in Ohio typically require your vehicle's registration, proof of insurance, and potentially your driver's license. Confirm with your chosen company.
Is it cheaper to drive or ship my car to or from Ohio?

The cost of DIY auto transport to Ohio depends on factors like distance, current gas prices, and the wear and tear on your vehicle from driving. Given these hidden costs of driving yourself, shipping can be more economical and convenient for long distances.
Do I need insurance to ship my car to or from Ohio?

Most reputable carriers have insurance coverage for any damage that may occur during transit. Consider purchasing a uShip Protection Plan at checkout for ultimate peace of mind.
Can I pack personal items in my car when shipping them to or from Ohio?

It depends on the company's policies, but usually, it's not recommended to pack personal items due to weight restrictions and liability issues. It's best to discuss this with your chosen Ohio car shipping service.
How can I track my car shipment to or from Ohio?

Many Ohio vehicle shipping providers offer online tracking or provide updates via phone or email. You can also use uShip's mobile tracking feature to receive real-time updates on your vehicle's location and estimated arrival time.
Top 5 Tips for Moving To Ohio
Ohio Residency Requirements:

Familiarize yourself with the residency requirements in Ohio, including processes for obtaining driver's licenses and vehicle registration.

Climate and Geography:

Ohio experiences diverse climates and landscapes that can significantly affect your relocation plan. Investigate the specific area you are relocating to for a better understanding.

Living Expenses:

Prepare for varying costs associated with housing, transportation, and utilities in Ohio.

Traffic and Commute Times:

Ohio's major cities can experience heavy traffic and congestion. Be sure to factor this in when choosing your new home.

State Laws and Ordinances:

Investigate specific laws and ordinances that might differ from your previous state, like vehicle emissions regulations.
Top 5 Helpful Websites for Relocating to Ohio
Ohio Tourism: To discover attractions, events, and travel details for different regions in Ohio.
OhioMeansJobs: For resources related to employment, unemployment benefits, and job search assistance.