5.0/5

Jason

"My truck was delivered in pristine condition, and I easily released payment to shipper via uShip's website and that was it! So easy."

5.0/5

Jaime

"In every interaction with the team members they have gone above and beyond to ensure I was satisfied with the results."

5.0/5

Liz

"It was relatively easy to find a shipper and payment was pretty seamless."

5.0/5

Jim

"We have being working with uShip since 2013 and have always been satisfied with the results."

5.0/5

Nate

"My shipper was great! On time both for pick up and drop off would highly recommend."

5.0/5

Brian

"I can find that hard to deliver item a dependable driver and research their past feedbacks on the platform."

5.0/5

Rebecca

"Our boat arrived in perfect condition."

5.0/5

Jonathan

"Have used uShip twice to ship a motorcycle purchased out of state. The entire experience has been top notch each time."

5.0/5

Sheleigh

"Super easy and quick! Very pleased! I will certainly use this platform again."

5.0/5

Stephen

"uShip provides a service that is unlike anyone else on the planet and I am thankful for it!"

5.0/5

Alaina

"Wonderful service!!!!! Felt safe and comfortable with how they do payments too! Shipment went better and quicker than expected!!"

5.0/5

Tony

"The delivery went without a hitch and I cannot say enough good things about the shipper!"
How does car transport work in Florida?
Shipping your vehicle with uShip is a fast and easy process. Here's how it works:
1 | Request a quote:

Start your free listing by providing details about your vehicle and shipping requirements.

2 | Compare Quotes:

Receive quotes from our network of feedback-rated carriers, and compare their rates and services.

3 | Choose a Carrier:

Book with the carrier that best fits your needs based on pricing, customer reviews, and delivery timeline.

4 | Schedule Pickup:

Coordinate a pickup time for your vehicle with the selected carrier and provide any necessary documentation.

5 | Track Your Shipment:

Stay updated on the progress of your shipment through our mobile tracking feature.

6 | Delivery:

Once your vehicle reaches its destination, inspect it thoroughly before releasing payment to the carrier.
How Long Does Car Shipping to Florida Take?
Depending on the distance, car transport in Florida typically takes 1-2 days for shorter trips and up to nine days for longer journeys. Distance, traffic, and weather can affect timing, but some transporters may provide express shipping, depending on their schedule. Discuss a delivery timeline with your carrier directly on uShip for hassle-free car shipping in Florida.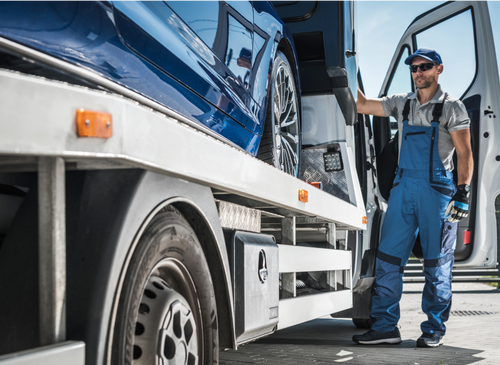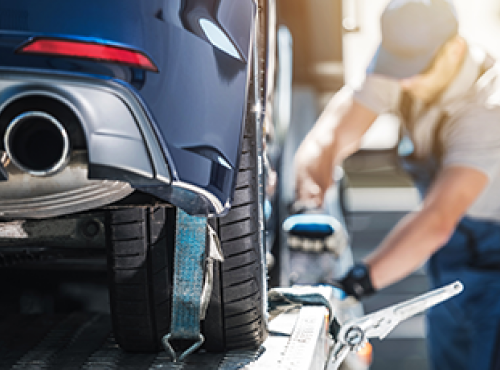 How much does Florida auto transport cost?
When it comes to car transport in Florida, several factors influence the cost. The type of vehicle you need to ship and the distance of the journey are significant considerations. However, other factors also come into play. These include the pickup date, the specific route, the make and model of the vehicle, its current condition, the preferred transport method, and seasonal variations. At uShip, we consider all of these factors to provide an accurate and transparent cost estimate for auto transport in Florida. You can trust us to offer competitive pricing and ensure a smooth and efficient Florida auto transport experience tailored to your needs.

How to choose the best Florida auto shipping company
When selecting a shipping company for cheap auto transport to Florida, consider the following factors:
Experience and Reputation:

Look for transporters with a proven track record and positive customer reviews.

Licensing and Insurance:

Ensure the company or carrier is properly licensed and has adequate insurance coverage.

Services Offered:

Check if they provide the specific services you require, such as open or enclosed transport.

Price and Value:

Compare quotes and consider the overall value, including customer support and reliability.

Customer Feedback:

Read reviews and testimonials from previous customers to gauge their satisfaction and experiences.
Top 5 Frequently Asked Questions
Is my car insured during the shipping process in Florida?

Most reputable Florida auto transport companies and transporters provide insurance coverage for vehicles in transit. Verifying the insurance details and coverage limits offered by the carrier you choose is essential. Additionally, check if your auto insurance provides coverage during car transport in Florida or purchase a uShip Protection Plan at checkout.
What are the different car shipping types available in Florida?

There are primarily two main options for car shipping in Florida: open transport and enclosed transport. Open transport is more common and cost-effective, while enclosed transport provides extra protection for high-value or classic vehicles. The choice depends on your preferences and the level of protection required for your car transport in Florida.
How do I prepare my car for shipping in Florida?

Before going for car shipping in Florida, cleaning it inside and out, removing personal belongings, and documenting any existing damages with photographs is essential. You may also need to secure or remove any loose parts or accessories. Additionally, it's crucial to ensure your vehicle has a sufficient fuel level and a spare key is available for the carrier on your auto transport in Florida.
What documents are needed for car shipping in Florida?

When it comes to car transport in Florida, you typically need the following documents: proof of ownership (vehicle title or lienholder information), a valid driver's license, and the vehicle's registration. Additionally, it's advisable to confirm with the carrier if any additional requirements or paperwork are needed for a smooth car shipping process in Florida.
How can I track the progress of my car shipment in Florida?

Many reputable auto transport companies offer tracking services that allow you to monitor the progress of your car shipment. You can track your vehicle's location and estimated arrival time by contacting the carrier directly or using uShip mobile tracking feature. To stay informed throughout the transportation process, it's recommended to inquire about tracking options when booking your auto transport in Florida.
Top 5 things to know before moving to Florida
Climate and Geography:

Florida is known for its warm and humid climate. Be prepared for hot summers and mild winters.

Cost of Living:

Florida's cost of living can vary depending on the specific city or region. While some areas may have a lower cost of living than other states, popular tourist destinations and coastal areas tend to be more expensive.

Recreational Activities:

Florida offers a vibrant outdoor lifestyle with beautiful beaches, national parks, and recreational activities. Consider the proximity to outdoor attractions and recreational opportunities when choosing a location to live.

Job Market:

Florida's job market is diverse, with major industries including tourism, healthcare, aerospace, and technology.

Traffic and Commute Times:

Some areas in Florida, particularly more prominent cities like Miami and Orlando, experience heavy traffic congestion during peak hours.
Top 5 Useful Websites For Moving to Florida
MyFlorida.com: The official Florida website offers access to various government services, including information on licenses, permits, taxes, employment opportunities, and official state announcements.
Florida Health: The official website of the Florida Department of Health provides resources and information on public health services, disease prevention, vaccination information, health regulations, and COVID-19 updates.
Florida Division of Emergency Management: This website offers crucial information on emergency preparedness, hurricane evacuation zones, severe weather alerts, and disaster response in Florida. It provides resources for residents to stay informed and prepared during emergencies.
Visit Florida: The official tourism website for Florida, offering comprehensive guides on attractions, events, outdoor activities, and travel information across the state. It's a valuable resource for discovering new places to explore and planning recreational activities in Florida.