What is the Cheapest Way to Ship a Car?
Open transport is the cheapest way to ship a car cross country.
Start Shipping Now
Top online car shipping site
Instant rates (no waiting)
5.0/5

Jason

"My truck was delivered in pristine condition, and I easily released payment to shipper via uShip's website and that was it! So easy."

5.0/5

Jaime

"In every interaction with the team members they have gone above and beyond to ensure I was satisfied with the results."

5.0/5

Liz

"It was relatively easy to find a shipper and payment was pretty seamless."

5.0/5

Jim

"We have being working with uShip since 2013 and have always been satisfied with the results."

5.0/5

Nate

"My shipper was great! On time both for pick up and drop off would highly recommend."

5.0/5

Brian

"I can find that hard to deliver item a dependable driver and research their past feedbacks on the platform."

5.0/5

Rebecca

"Our boat arrived in perfect condition."

5.0/5

Jonathan

"Have used uShip twice to ship a motorcycle purchased out of state. The entire experience has been top notch each time."

5.0/5

Sheleigh

"Super easy and quick! Very pleased! I will certainly use this platform again."

5.0/5

Stephen

"uShip provides a service that is unlike anyone else on the planet and I am thankful for it!"

5.0/5

Alaina

"Wonderful service!!!!! Felt safe and comfortable with how they do payments too! Shipment went better and quicker than expected!!"

5.0/5

Tony

"The delivery went without a hitch and I cannot say enough good things about the shipper!"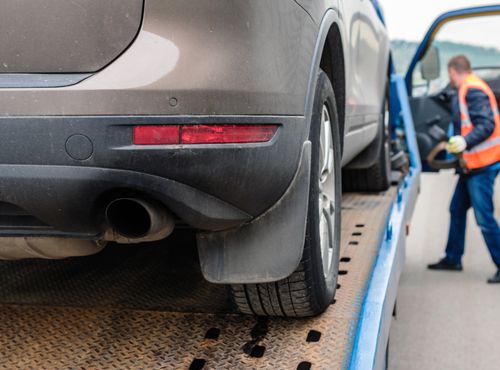 What is the cheapest way to ship a car to another state?
One of the cheapest ways to transport a car across the country is with open transport. As the most popular transportation method, open auto transport is an economical option and costs less than other cross-country car shipping methods, such as enclosed, express, or top-load car transport.
With open transport, your vehicle is loaded on a multi-car or single-car trailer and delivered to your chosen destination. While your car will be exposed to the elements, such as dirt and traffic grime, it's no different than driving your car on the highway.
How Do You Get Cheap Car Shipping Quotes?
To find cheap car shipping quotes, you first have to create a listing on uShip. You'll want to provide the complete shipment details, including the year, make, and model of your vehicle, shipping dates, and pickup and delivery locations.
Once you've listed your car on the uShip marketplace, you'll start receiving quotes from transporters willing to haul your vehicle to its destination. Review each carrier's profile, including user feedback from previous shipments. You'll want to pick the service provider that best fits your budget and needs. When you've found the right carrier, select "accept" to complete the booking and start the delivery process.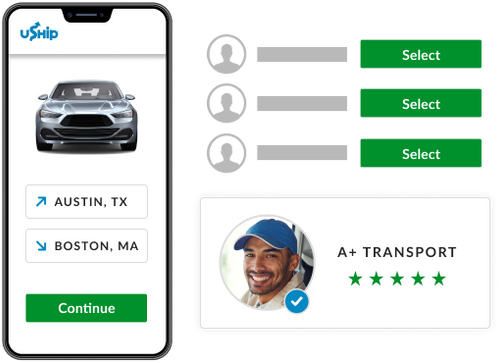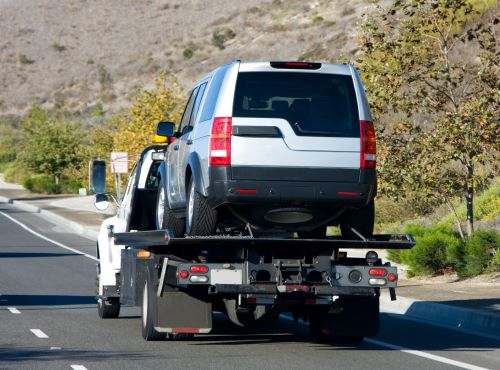 How Much Does the Cheapest Way to Ship a Car Cost?
On average, the cheapest vehicle transport costs $0.58 per mile if you're shipping a car 2,000 miles or more. For distances of less than 100 miles, the cost is an average of $2.75 per mile.
| Distance | Average price per mile | Sample Distance | Sample Price |
| --- | --- | --- | --- |
| 1-100 miles | $2.75 | 100 miles | $275 |
| 101-250 miles | $1.98 | 200 miles | $396 |
| 251-500 miles | $1.45 | 300 miles | $435 |
| 501-1,000 miles | $1.10 | 500 miles | $550 |
| 1,001-2,000 miles | $0.78 | 1,250 miles | $975 |
| 2,001-3,000 miles | $0.58 | 2,250 miles | $1,305 |
The average prices per mile above reflect market conditions as of March 2023 for operable vehicles and sedans shipped with open transport. These prices include match fees and are subject to change depending on several elements, including pickup and delivery locations, the price of gas, and seasonal fluctuations.

Fast, Affordable Vehicle Transportation Quotes
Check prices and book a car shipping carrier of your choice
Find the Best Price
Top 10 Tips on How to Ship Your Car Cheaply
The cheapest way to ship a car cross country depends on several factors, such as the ype of vehicle and how far you want it shipped. Here are 10 tips for saving money:
Research all your options carefully.
Compare rates and services.
Don't pick the first company you see.
Find the best transporter for your shipping needs.
Determine what is most important when shipping a car (ex. price versus level of service).
Use open transport shipping.
Check whether any discounts or special offers are available.
Book as far in advance as possible.
Ship your car from a city rather than a rural location.
Pick the right time of the year, knowing that summer and holidays tend to be more expensive.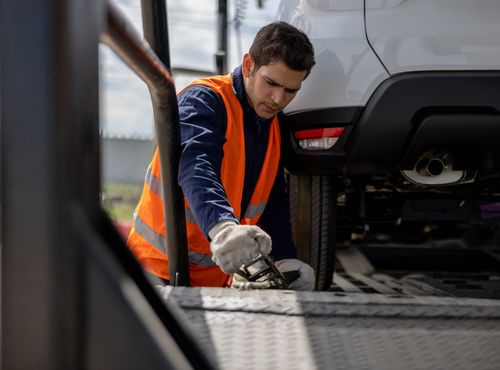 Frequently Asked Questions
What is uShip?

uShip is an open marketplace that helps people and businesses connect with transporters who have extra truck space for shipping big stuff.
How much does it cost to ship?

That largely depends on what and how far you're shipping your item. You can name your own price or review bids from feedback-rated transporters. In some categories like vehicles and freight, instantly-bookable rates are provided to speed up the process.
Who transports my item(s)?

Independent and small fleet transporters provide nationwide coverage for large item delivery. They operate sprinter vans, box trucks, pickup trailers, flatbeds, and vehicle haulers. Transporters are not contractors or employees of uShip. uShip provides a public profile page for each provider, with their feedback score, service history, and experience, so you can make an informed decision.
What kind of assurances or support do I have about shipping my item(s)?

uShip provides several ways to safeguard and support your shipment, from the uShip Protection Plan to our Ship with Confidence Guarantee. Additionally, our top-notch customer support team is here to answer your questions or address issues throughout your shipping experience.
Is uShip for Business or Personal shipping?

Both. uShip can help someone ship an heirloom armoire to Aunt Sally, furniture resellers or Etsy sellers deliver to their buyers, small businesses transport their less-than-truckload freight, and car dealers move volumes of vehicles to out-of-area customers.
Looking For Affordable Car Transport Options?
Get instant quotes from our network of vehicle transporters
Get Car Shipping Quotes