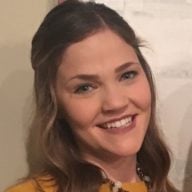 Amanda Laviana is a Content Marketing Manager at uShip. She brings eight years of copywriting experience to the uShip team, having worked across traditional and digital marketing capacities during her career. Amanda cut her marketing teeth in the advertising world, working in a creative copywriting role for a consumer agency specializing in foodservice and aviation, before switching gears to work in-house in the tech world.
During her time as a copywriter, Amanda has worked on brands like Cargill, Cessna, Beechcraft, Dean & Deluca, Spirit Aerosystems, and of course – uShip.
At uShip, Amanda manages editorial content across the consumer category, less-than-truckload shipping, vehicle and boat shipping, and strategic partnerships. As a content marketer, Amanda is committed to balancing an authentic voice and accessible tone with logistics industry expertise. She's contributed to projects like the America, We Ship and Realities In Oversized E-commerce Delivery In The Amazon Era reports – pieces of a larger, ongoing mission to educate users about the changing face of logistics in ways that directly impact them.
Amanda's interest in writing has been nurtured since birth. As the daughter of two journalists, she eagerly followed in her parents' footsteps, earning a BA in Integrated Marketing Communications from Wichita State University. Her plan to pursue print journalism was ultimately replaced with an interest in copywriting, thanks to an internship that shed light on the creative aspects of marketing copywriting.
Outside of uShip, Amanda spends her days traveling as often as possible, pursuing a very unrealistic mission to visit seven continents by 30. (If you've got Antarctica contacts, let her know.) She's also a casual blogger, dog mom to a middle-aged miniature dachshund named Leni, a new member of the plant mom scene, and an Elton John hopeful as she learns to play the piano at a slothful pace. Amanda is also a recent cancer survivor and an enthusiastic member of multiple organizations supporting the AYA (adolescent/young adult) cancer community.
Connect with Amanda on LinkedIn and keep up with her latest on logistics industry insights here.