Top online boat shipping site
Instant rates (no waiting)
5.0/5

Rebecca

"Our boat arrived in perfect condition."

5.0/5

Jaime

"In every interaction with the team members they have gone above and beyond to ensure I was satisfied with the results."

5.0/5

Scott

"Shipment was without issue and handled with extreme care.  Would highly recommend!!"

5.0/5

Jim

"We have being working with uShip since 2013 and have always been satisfied with the results."

5.0/5

Brian

"I can find that hard to deliver item a dependable driver and research their past feedbacks on the platform."

5.0/5

Nate

"My shipper was great! On time both for pick up and drop off would highly recommend."

5.0/5

Jonathan

"uShip provides a solid value and an overall more personalized shipping solution."

5.0/5

Liz

"It was relatively easy to find a shipper and payment was pretty seamless."

5.0/5

Sheleigh

"Super easy and quick! Very pleased! I will certainly use this platform again."

5.0/5

Tony

"The delivery went without a hitch and I cannot say enough good things about the shipper!"

5.0/5

Alaina

"Wonderful service!!!!! Felt safe and comfortable with how they do payments too! Shipment went better and quicker than expected!!"

5.0/5

Stephen

"uShip provides a service that is unlike anyone else on the planet and I am thankful for it!"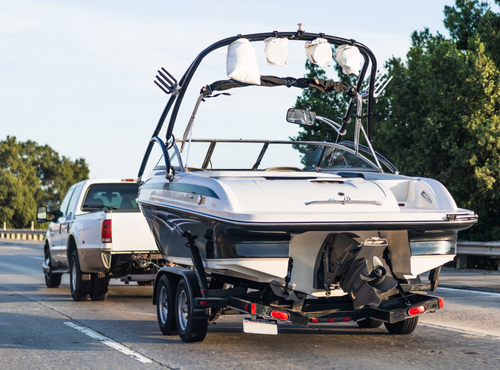 How are boats transported?
Depending on a boat's size, type, and destination, it can be transported by land, sea, or air. Small boats, such as canoes or kayaks, can be easily transported on top of a car or trailer. Larger boats, such as sailboats or yachts, can be transported overland by truck or water using specialized transport vessels. In some cases, boats are transported by air, but this is typically reserved for very small or high-value vessels.
How long does it take to ship a boat?
The shipping time for a boat can vary depending on the size of the vessel, the transportation method, the shipping distance, and the transport company's schedule. Generally, domestic boat shipping within the same country can take anywhere from a few days to weeks. On the other hand, international boat shipping can take several weeks to months, depending on the distance, customs clearance, and weather conditions. It's always best to check with the shipping company for specific timelines and details.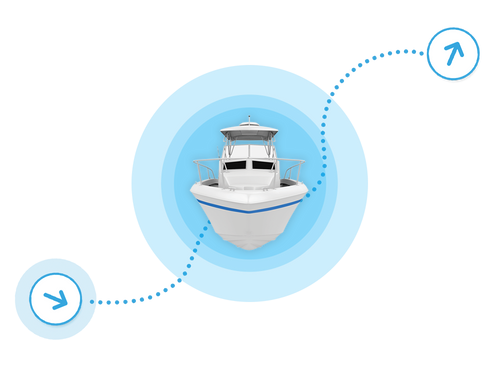 | Distance | Average transit time |
| --- | --- |
| 0-1000 Miles | 1-2 Days |
| 1000-1500 Miles | 2-3 Days |
| 1500-2500 Miles | 4-5 Days |
| 2500+Miles | 6-7 Days |
IMPORTANT: The average transit times shown up above can be affected by boat size, weather and road conditions, traffic, etc.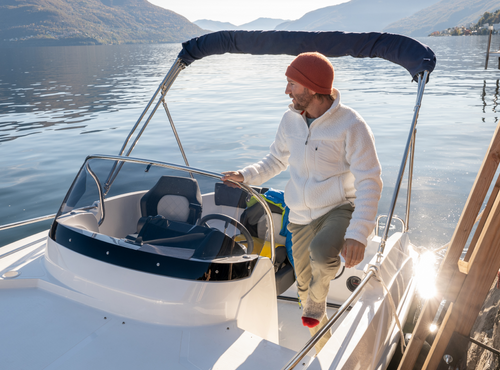 How to Get the Best Boat Shipping Quote?
Getting the best boat shipping quote requires some research and preparation. Start by gathering information about your boat's size, weight, and destination. Next, research several boat shipping companies and compare their services, rates, and reviews. Provide accurate and detailed information to the companies you contact to ensure you receive an accurate quote.
Want to skip most of these steps and get directly to the rates? Consider using uShip, an online shipping marketplace that connects you with multiple shipping companies and allows you to compare rates all in one place. Contact us today to get started and find the best boat shipping quote for your needs.

Boat Transportation Quotes
Check prices and book a boat shipping carrier of your choice
Find the Best Price
How Much Does Boat Transportation Cost?
The cost to transport a boat can vary widely depending on several factors, such as the size of the vessel, shipping distance, transport type, and time of year. Generally, the larger the boat, the more expensive the shipping cost. Transporting a boat over a long distance or overseas can also significantly increase costs. Additionally, the type of transport can affect the price, with land transportation being generally cheaper than water or air transportation. The time of year can also impact the cost, with warmer peak seasons being more expensive than off-peak seasons.
To get the most accurate cost estimate to ship your boat, take precise measurements and get quotes from several reputable boat shipping companies. Check out our Cost to Ship a Boat page to learn more and find the best deal for your needs.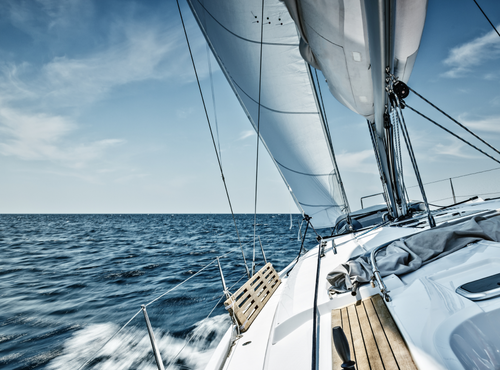 ---
How to Prepare a Boat for Shipping
Preparing your boat for shipping is an essential step in ensuring it arrives at its destination safely and without damage. Here are the most important steps to take when preparing your boat for shipping:
Clean and Inspect Your Boat: Before shipping, it's essential to clean your boat thoroughly and inspect it for any damage. This will help you properly document the condition of your boat before it is shipped.
Remove or Secure Loose Items: Any loose items on your boat should be removed or secured before shipping. This includes things like cushions, electronics, and additional boating gear.
Drain Water and Fuel Tanks: Drain all water and fuel tanks before shipping to reduce the boat's weight and prevent leaks during transit.
Disconnect Batteries: Disconnect the boat's batteries before shipping to prevent any electrical issues from occurring.
Secure Trailer and Hauling Equipment: If you're transporting your boat on a trailer, ensure that the trailer is securely attached to the hauling equipment and that everything is properly connected.
Check for Permits and Regulations: Depending on the size and type of your boat, you may need special permits to comply with specific shipping regulations. Check with the shipping company to ensure that you are in compliance.
Document Your Boat's Condition: Take pictures and document the condition of your boat before shipping. This will help you make a case if any damage occurs during transit.

How to Choose a Boat Trailer
Choosing the right boat trailer for transportation is crucial to ensure the safety of your vessel during transit. Here are some key factors to consider when choosing a boat trailer:
COMMUNICATION WITH SERVICE PROVIDER
The first step is communicating with your service provider about your boat transport trailer options. Depending on the shipping company, you may be able to use your trailer or cradle, but most will have their own boat shipping equipment.
USE YOUR OWN TRAILER
If you decide to use your own trailer, you may be responsible for any damage or mishaps resulting from your trailer not being fit for transport. Always thoroughly inspect your trailer, and check all securing devices, lights, and tires. Note that wooden boats are best transported in their custom cradle since they are made to spread the boat's weight properly.
USE THE CARRIER'S TRAILER
Alternatively, you can use one of the transporter's boat trailers. In this case, discussing any specific details they may need you to comply with is essential. Provide your transporter with accurate dimensions of your boat and ask them how they will load and unload your boat.
RESEARCH DIFFERENT OPTIONS
It is vital to research the different options of boat trailers available. Remember that the type of trailer used can also impact the cost of transportation.
By considering these factors and communicating effectively with your service provider, you can ensure your boat is transported safely and securely to its destination.

How to MEASURE YOUR BOAT
Properly measuring your boat is crucial for ensuring safe and secure transportation. While you may have access to the manufacturing information from the owner's manual, we advise manually measuring your boat to ensure accuracy. Here are some key measurements to consider:
OVERALL LENGTH
Measure your boat from the center of the tip of the bow (front) to the stern (back). Be sure to include bow pulpits, swim platforms, motor brackets, and the length of the motors or outdrives in the raised position.
OVERALL HEIGHT
Measure from the bottom of the keel to the highest non-removable part of the boat.
BEAM
Measure across the boat's widest point, including the rub rail.
PLEASE NOTE
It's important to note that the legally loaded height of your boat cannot exceed 13'6". If your boat exceeds this height, expert transporters can offer alternative routes which may require slower travel on non-interstate roads.
If your boat is wider than 8'6", you must get an oversized load permit to transport it. For boats wider than 12', a certified escort may also be necessary, which will add to your hauling charges.
By measuring your boat accurately and ensuring it falls within legal transportation limits, you can ensure a safe and smooth journey for your vessel.

How to Ship Your Boat Domestically
Domestic boat shipping involves the transportation of a boat within the same country. Typically, inland transportation is the most common method for domestic boat shipping. Various domestic shipping options are available depending on which state the shipment is coming from. Here are some key factors to keep in mind when deciding to ship your boat domestically:
TYPE OF CARRIER
You'll need to determine the type of transporter best suited for pickup and delivery. The most common types of domestic boat transportation are flatbeds, enclosed trailers, and open trailers. The carrier you choose will need the proper trailer to accommodate the size of your boat and unique shipping needs.

EFFECTIVE ROUTE
Consider the most effective route for transportation and choose your pickup and delivery destinations accordingly. Be sure to factor in the distance, road conditions, and potential obstacles or challenging terrain.

REQUIRED PERMITS AND INSURANCE
Required permits and insurance will depend on the state you're shipping from and your route. It's essential to research and ensure that your load complies with all necessary legal requirements to avoid potential issues.

EQUIPMENT NEEDED
Communicate with your carrier to determine what equipment is needed for pickup and delivery. This might include loading equipment, such as a crane or forklift, and any necessary safety gear.
By considering these factors, you can ensure a smooth and successful domestic boat shipping experience. Working with a reputable boat shipping company with experience in domestic boat transportation is also essential in gaining total peace of mind.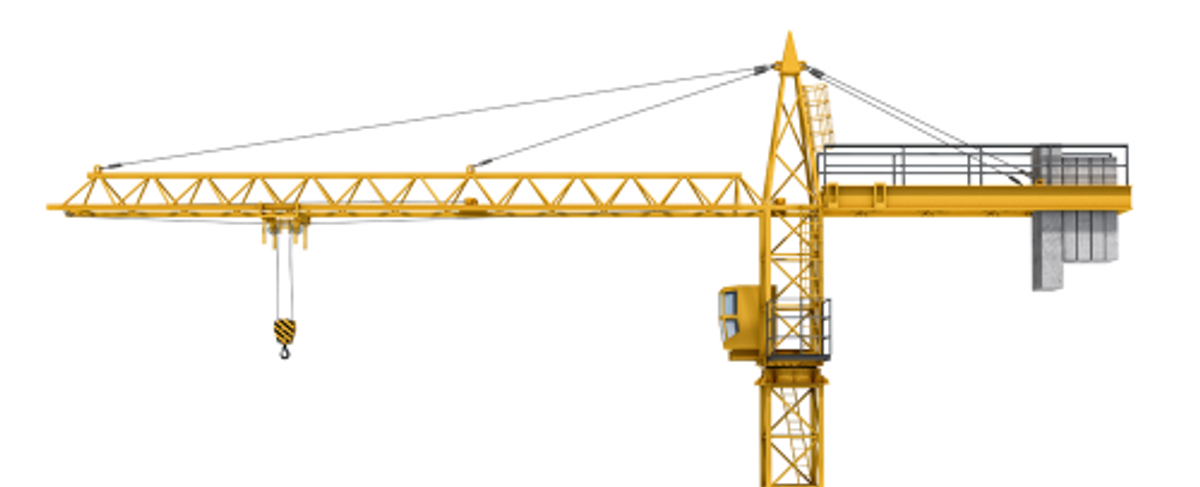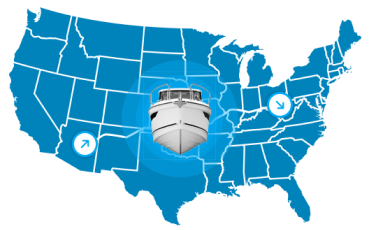 How to Ship Your Boat INTERNATIONALLY
When planning to ship your boat overseas, several options exist. Here are the most common ones:
ROLL-ON/ROLL-OFF (RO/RO)
This option involves your boat staying on a trailer, either your own or the carrier's, for the entire trip. Remove or lower booms, antennas, and radar towers to reduce your boat's overall height and volume. Shipping companies usually measure the overall height, including the trailer, so this can significantly reduce costs.
ENCLOSED CONTAINER
Most large shipping vessels carry containers, and this option can be less expensive than RO/RO. However, the height requirement includes any trailer height as well. Ask the transporter about different containerized options available and choose this option only if your boat fits within the standard dimensions (40' long, 7'10" high, 7'8" wide).
FLAT RACK
Typically used for oversized boats, this option involves shipping the boat in its own custom cradle, strapped into the flat rack, and secured to the vessel. It's highly recommended that you remove or secure items, such as arches or the bridge, to save hundreds of dollars on freight.
SUBMERSION
This option involves loading and unloading the boat directly from the water.
Lastly, preparing all legal and customs documents before shipping anything overseas is essential. Contact foreign embassies or consulates in the country where you're transporting your boat for more information about proper documentation. Winterizing your boat before shipping is highly recommended to avoid damage to the engine and interior, and shrink wrapping can provide a level of deterrence and safety while your boat is in transit. It's also a good idea to ship valuable electronic components separately to avoid the risk of loss.
Choosing the right transporter is the best way to ensure a successful international boat shipping experience. Feel free to ask questions and clarify concerns with your chosen service provider. By considering these factors and preparing carefully, you can ensure a safe and successful international boat shipping experience.

How to Transport a Boat on uShip
Transporting your boat through uShip is easier than ever. Here's how to get started:
CREATE YOUR SHIPMENT LISTING
Be sure to accurately measure your boat's dimensions, as these measurements help determine the best transporter for the job. Consider your transportation needs, budget, and timeframe, and communicate your preferred boat hauling method.
Before your listing is published, you will be offered different pricing options. Learn more about our pricing formats and see which option is best for your boat shipment.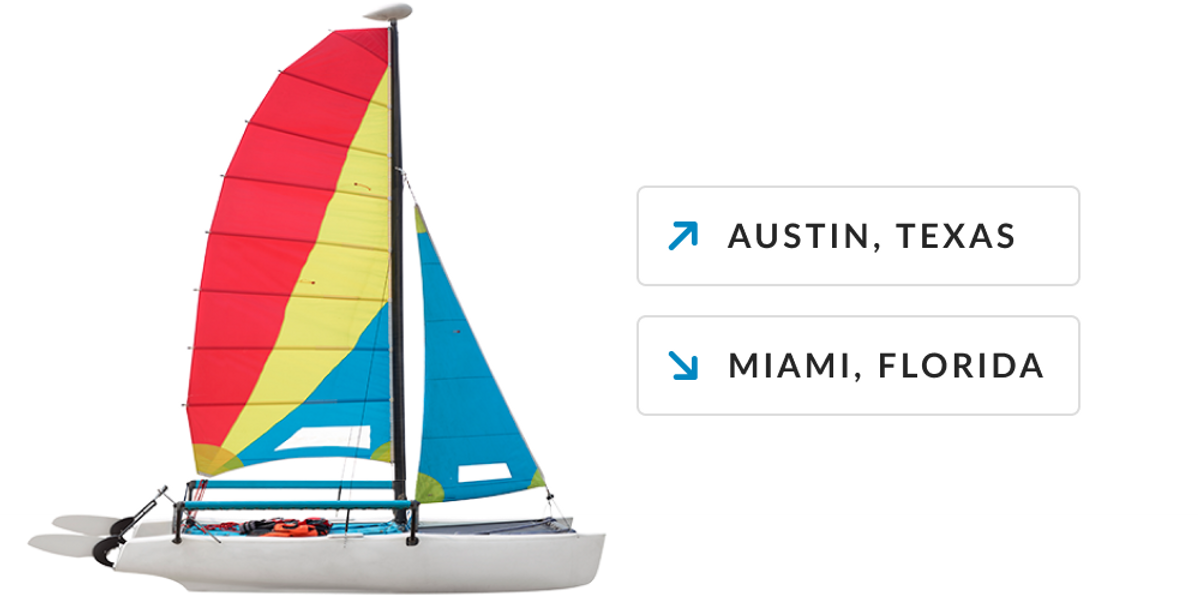 FIND THE BEST BOAT TRANSPORTING COMPANY
Once your listing is published, boat haulers will send you quotes and compete for your business. Remember: the cheapest quote is not always the best option. Carefully review each carrier's profile, which includes their transport history, safety records, and customer reviews. You can also ask questions to determine the best service provider for your boat-hauling needs. Once you've selected a carrier, you can accept their bid and initiate pickup. Not ready to accept or decline a quote? No worries! You'll have up to 24 hours after your 7-day listing expires to decide.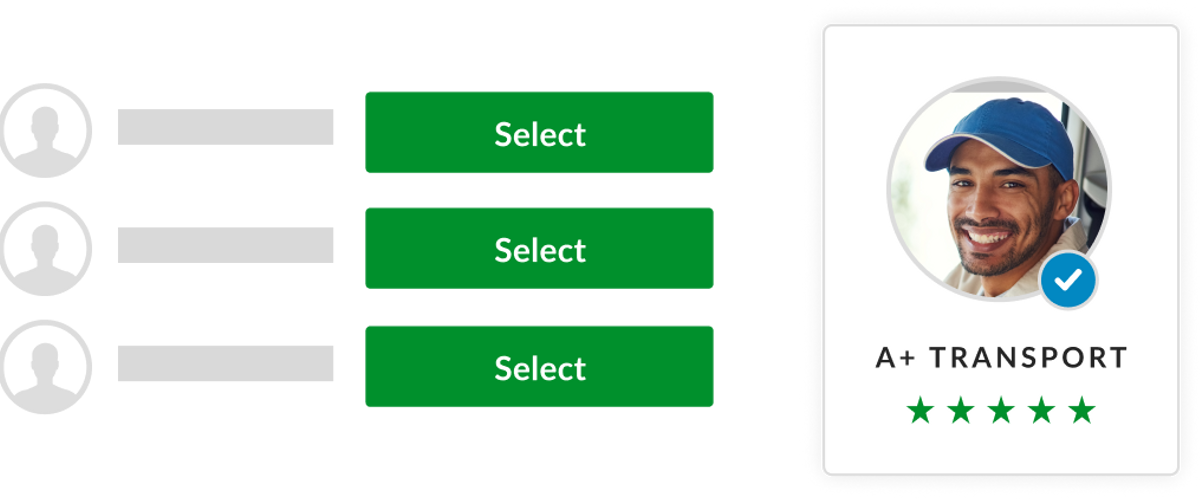 BOAT TRANSPORT AND DELIVERY
After selecting a transporter, you'll receive a confirmation email with your carrier's contact information upon booking. Get in touch immediately to schedule a pickup and discuss special delivery instructions.

---

Boat Transportation Protection
When entrusting your boat to a transporter, it's essential to ensure that they have adequate insurance coverage. We advise reviewing your chosen transporter's insurance policy before handing over your boat. For added protection, we recommend purchasing a uShip Protection Plan. Gain peace of mind knowing you're covered against damage and loss with an all-risk, comprehensive protection plan that protects your shipment at a competitive cost.

FINALLY, SHIPPING BOATS IS EASY
List your boat at the price you want to pay and select a carrier that suits your needs
Ship Your Boat Now